Posts Tagged 'RDTW2021'
It's no newsflash that the global pandemic, which has devastated so many, including imprisoned folks, is not over. So, for full transparency, we didn't really know what to expect when we asked friends, allies, comrades, and others with whom we share affinity, to show up for a 5k run and barbecue. We were certainly heartened after tabling a couple of recent events at which we got great interest and met a lot of folks we'd never seen before, but that doesn't always translate into a successfully attended event. Regardless, we put out the call and New York CAME THROUGH. Throughout the day, we had over 100 folks come through, participate, donate, and eat. We exceeded our fundraising goal of $4,000 and that means more loot for elder former NYS political prisoners and the ABCF warchest. There is still time to donate at venmo.com/nycabc or paypal.me/nycabc
Running Down the Walls in NYC is always a multi-generational event and we knew that meant having folks more vulnerable to Covid-19 there to show support (or have their parents show support for the young 'uns). We implemented appropriate protocols for keeping everyone as safe as possible, and it turns out to be slightly annoying, but not difficult. Thanks to everyone who came out for understanding and being patient as we took longer to hand out food and drinks, kept everything wiped down, and all that other hoopla.
Setting up early, we were able to distribute a lot of free literature and talk with plenty of folks enjoying a day in the park and curious about the colorful flyers. By the time folks started showing up to register, everyone was hype. Recognizing not everyone participating has the same relationship to time (our nice way of saying there were plenty who were tardy for the party), we waited until after 2:30 to start the actual run. As always, some showed up eager to get the five kilometers behind them and a plate of food in front. And with so many folks, the event organizers left with nothing but empty containers (and a bunch of funds for our PPs and POWs) as the vegan cookout got entirely housed.
Running Down the Walls 2021 was familiar and unique at the same time. It was incredible to receive such great support from so many communities who showed up. We are grateful and deeply appreciate everyone who came through, donated online, promoted RDTW, or supported in myriad other ways. That's what's up and that's how we get down (the walls).
12 August 2021
Comments off
WHAT: Running Down the Walls – 5k Run/Walk/Jog/Bike/Hang
WHEN: 2:00-7:00pm, Sunday, September 12th, 2021
WHERE: Prospect Park– Lincoln Road/East Lake Drive, east of the Terrace Bridge (see the below map for exact location)
COST: $10 registration (includes vegan BBQ afterwards served COVID precautions!)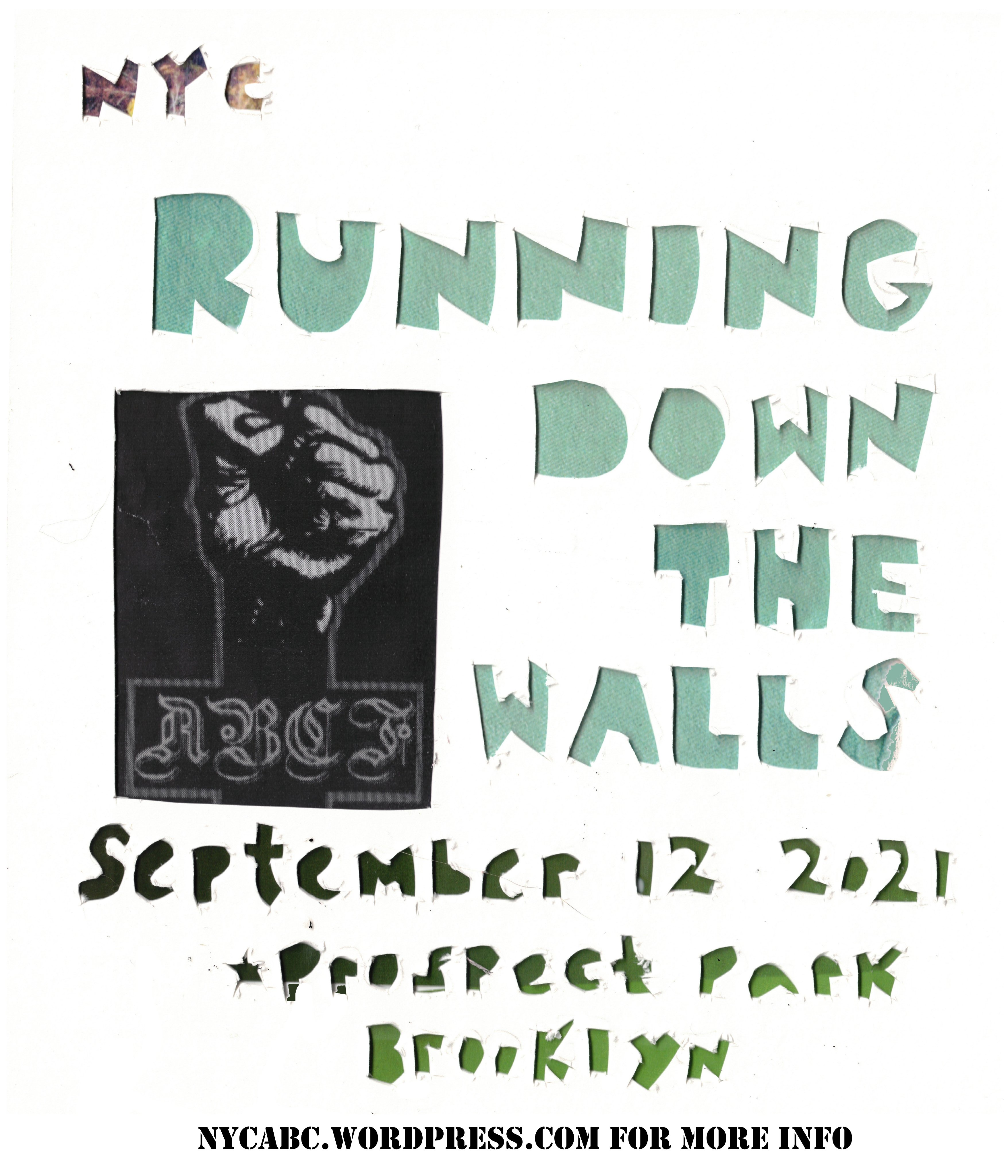 We're excited to announce Running Down the Walls 2021, COVID permitting. After making the difficult decision to not hold last year's event in person, we are very much looking forward to gathering as a community for the first time in a long time. Please stay tuned to our website, sign up for our newsletter, and follow us on tweeter (@nycabc) for updates.
Every year, prisoners and supporters of political prisoners organize solidarity events with Running Down the Walls. In previous years, we've had runs in Albuquerque (NM), Arcata (CA), Ashland (OR), Bellefonte (PA), Boston (MA), Buffalo (NY), Chico (CA), Denver (CO), Elmore (AL), Inez (KY), Los Angeles (CA), Marion (IL), Minneapolis (MN) New York (NY), USP Navosta (TX), Pelican Bay (CA), Phoenix (AZ), Tucson (AZ), Seattle (WA), and Toronto, Ontario. This year we hope to expand the amount of runs in prisons and other cities, as well as increase the amount of funds raised for community projects. NYC ABC's goal with this year's run is $4,000. You can donate online by going to paypal.me/nycabc or venmo: @nycabc
This year's run will take place on Sunday, September 12th, 2021 at 2:00 pm in solidarity and conjunction with runs that will take place in cities and prison yards across the country at the same time. Stay after to enjoy a vegan BBQ, served taking every COVID precaution!
REGISTER AS, OR SPONSOR, A PARTICIPANT
To raise our goal of $4,000, we need your support.
* Promote – print and distribute flyers to friends and local businesses, your doctor's office, laundromat, food co-op, wealthy benefactor, et cetera.
* Run/walk/bike/roll in the 5k – We need participants who can run/walk/bike/roll the 5k and are able to collect financial pledges to offer as donations to the run. Download the brochure, complete with registration and sponsor form right here.
* Volunteer for the run – We need folks who are willing to hand out water, bike the route as street medics, and help chalk the route beforehand.
* Donate online at paypal.me; venmo @nycabc
* Donate to the run/sponsor a participant – If you are not able to attend, but want to support this fundraising effort, please mail donations to:
NYC ABC
Post Office Box 110034
Brooklyn, New York 11211
Your donation of $10 or more entitles you to the celebratory picnic after the event.
Each year, we split proceeds between the Anarchist Black Cross Federation's Warchest Program and a local organization. This year, local funds are going to recently released New York state political prisoners.
The Warchest Program:
The Anarchist Black Cross Federation (ABCF) has initiated a program designed to send monthly checks to those Political Prisoners and Prisoners of War who have been receiving insufficient, little, or no financial support during their imprisonment. The Warchest program was initiated in November 1994. Its purpose is to collect monthly funds from groups and individual supporters, and send that money to Political Prisoners and Prisoners of War (PP/POW) via monthly checks. Over the last twenty five years, the ABCF warchest has dispensed over $100,000 to political prisoners in the United States. Currently, there are 18 imprisoned comrades who receive a monthly stipend as part of the program; they are Abdul Azeez, David Gilbert, Doug Wright, Ed Poindexter, Eric King, Hanif Bey, Jamil Al-Amin, Joseph Bowen, Kamau Sadiki, Leonard Peltier, Malik Smith, Mutulu Shakur, Oso Blanco, Ronald Reed, Ruchell Magee, Sundiata Acoli, Veronza Bowers, and Xinachtli (FKA Alvaro Luna Hernandez).
For more information, visit: abcf.net/warchest-program
We will be starting here:
From the Q train, get off at the Prospect Park stop. Walk to Lincoln Road and turn right into the park. We'll be about 700 feet away.
The event will be one lap around what is known as the Main Loop, and will total five kilometers. For the curious, here's what it looks like:
If you have any questions, feel free to e-mail us at nycabc at riseup dot net.
See you there!